By Brian Kuehl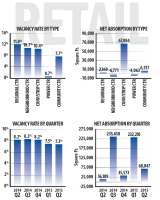 Farrell and Brian Kuehl
There are several retail developments in Douglas and Sarpy counties that continue to release new tenant announcements, and others that seem to take two steps forward and one step back. Some of the most active retail developments right now include:
Aksarben Village
Recent additions include VooDoo Taco, Pauli's Bar and Grill, Dickey's BBQ, Spirit World and Backwoods, a high-end outdoor soft goods retailer relocating from Tower Plaza at 78th and Dodge. Not to mention the new Baxter Arena to draw customers to the area.
Village Pointe West
This development has seen the addition of a new Pitch Pizzeria and two new retail strip centers at its west end.
West Greyhawk
A new power center at 147th and West Maple Road anchored by Fresh Thyme Grocery and Gordman's.
Loveland Shopping Center
Located at 90th & Center, this development houses the Bookworm and Market Basket restaurant, both previously located at Countryside Village. • Shops of Legacy This development has added a new multi-use retail/apartment building.
Sterling Ridge
The retail portion of Sterling Ridge is now underway with new tenants to be announced.
72nd and Cornhusker
This area in Sarpy County started with a Dunkin' Donuts and has more recently added major retailers Sam's Club and Hobby Lobby, as well as smaller tenants such as Jersey Mike's, Smoothie King, Chipotle and many more all the way north to 72nd and Giles Road.
Other notable sale transactions include Hobby Lobby's purchase of the former Bag 'n Save at 75th and Dodge, and the purchase of the Bag 'n Save at 156th & Blondo by Travis Freeman as the new home for Brite Ideas Decorating.
The retail market has been active to say the least, and the primary drivers in small shop leasing continue to be restaurants and service retailers such as dentists, chiropractors and gyms.
According to Xceligent, the overall market has seen positive absorption of 68,847 sq. ft. and a total for the first half of the year of 301,057 sq. ft. From what we have seen in the market as a whole, new tenants are flocking to newer Class A retail projects. Class B and Class C unanchored retail shopping centers continue to struggle to find any real progress by way of absorption.
Retail market vacancy rates are down to 7.3% for Q2 from the 7.5% seen in Q1 2015 and rental rates have decreased from $13.36 per sq.ft. to $13.32 per sq.ft.
Last, we are paying very close attention to the ever-changing grocery environment in the Metro. Below are some of our observations.
Grocery Shift
The talk of the retail market in Omaha right now is the recent shift in the grocery environment. Consumers have zeroed in on price, convenience and quality as the most important aspects of their grocery shopping trips. Discounters and innovators are changing the landscape of the grocery market, and traditional supermarkets are losing market share. The players that are causing this shift are wholesale clubs, fresh grocers, small-format stores, food-focused dollar stores, online grocers, and drug and convenience stores. Consumers' habits are now taking them to as many as five different grocery shopping channels. This shift in spending habits nationally can be seen by the changing grocery scene in Omaha.
Locally, Costco and Sam's Club are both working on second locations for the Metro area. The locations were chosen to serve the Sarpy County area, with Sam's locating off of 72nd & Cornhusker and Costco in the process of purchasing land at Southport at 126th & Giles Road. An example of a traditional supermarket that has been hit by the changing environment is Bag 'n Save, which is closing a number of locations. Bag 'n Save's parent company, Spartan Nash, is in the process of reformatting several stores in the Omaha market to meet changing consumer demands. An example of a small format grocer is Walmart Neighborhood Market, which is entering the Omaha market with six new stores. Finally, within the fresh grocer category, there are both new and existing players. Fresh Thyme is entering the market with its first location at 147th & West Maple. Natural Grocers has opened two locations in town. Akin's Natural Foods, Trader Joe's and Whole Foods have all been in the Omaha market for a while and have all been doing well.
This rise of these alternate food-selling channels is eroding sales of the packaged, non-perishable goods typically offered "center store" inside the traditional grocer. Prepackaged goods have quality consistency no matter where they are sold, so consumers simply shop for these items based on price. This is where discounters, dollar stores and wholesale clubs have taken market share. Perishable food, located on the perimeter of the traditional supermarket, is where the focus is now and where the money is made. It is also the primary differentiating factor from the competition. Major chains are now ramping up their focus on fresh and prepared foods around the perimeter, even turning themselves into food service providers with a food court type atmosphere.
As some of the larger grocery chain stores close their doors here in town, as Bag 'n Save is doing, an opportunity may arise to re-tenant these spaces with smaller specialized food tenants that occupy in aggregate roughly the same square footage as the departed anchor. We believe that dollar stores and fresh-format grocery stores will continue to expand aggressively and will likely continue to enter our market in the coming years in an attempt to eat into supermarket sales even further.
This article appeared in our quarterly newsletter from September of 2015. The full newsletter is available at http://files.investorsomaha.com/download/online_newsletter_9-2015.pdf