Our marketing team is small but mighty. Marketing Coordinator Krissy Harral and Marketing Assistants Carlson Koch and Lea Bredin have an extensive set of responsibilities. Krissy and Carlson work closely with the Team Coordinators who support the brokers to develop marketing plans for their respective listings. Additionally, the marketing team helps to ensure brand consistency across all IRI marketing initiatives. They create and coordinate all advertising, social media, graphic design, website content, proposals, flyers and much more, including this quarterly newsletter!
Krissy Harral oversees the branding of all digital and print marketing pieces and designs customized marketing collateral when needed. Krissy joined IRI in 2019, bringing with her three years of corporate marketing and graphic design experience. Carlson was initially hired in late 2019 as a marketing intern to further support our marketing efforts. He has helped with social media, marketing research and broker-specific marketing needs. After graduating from UNO in May, Carlson joined us full time, and we are excited for his future here at IRI! Lea has been with IRI part-time since 2018. Her focus is tenant and property management social media.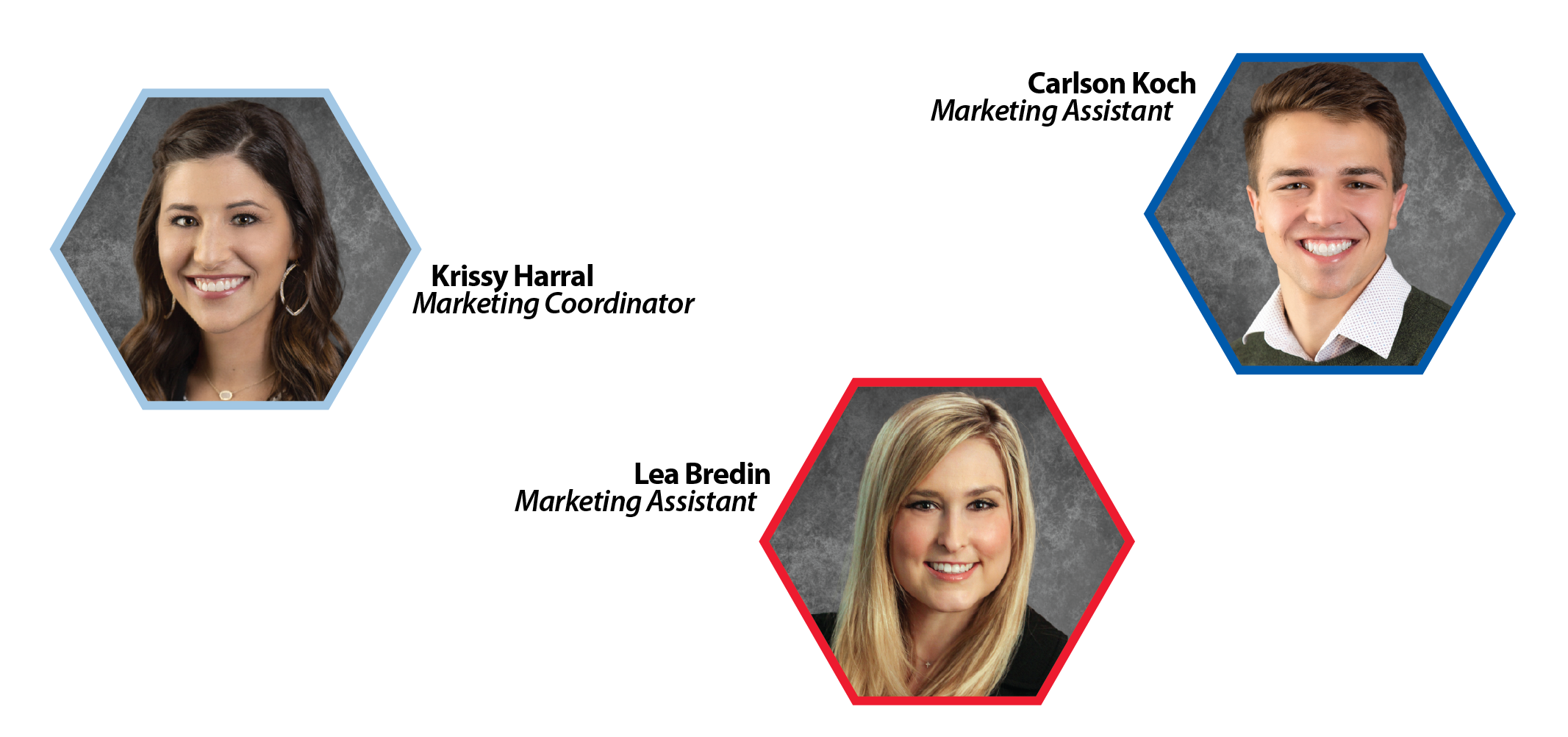 Ember Grummons, who works primarily on larger institutional grade properties, previously used a national firm to produce his marketing package. Since Krissy has taken over the production of these materials, Ember's turnaround time has improved, costs have decreased, and he has received positive feedback from clients on the quality of our marketing packages. Kevin Stratman said that since Krissy and Carlson have taken over posting on the various social media platforms, "I am receiving nice feedback and recognition from the posts." He credits their efforts on several listing proposals as tipping the scales to get the account as well as their help in putting together marketing packages to meet his client's expectations. Pat Regan commented, "Krissy and Carlson have been very responsive, professional and creative with their approach to helping market my properties. Their involvement helps me provide a higher level of service and results for my clients. I couldn't be more grateful".
Tim Kerrigan notes that the brokers have more time to interact with clients and prospects due to the marketing team's efforts, which results in broader exposure to the market and quicker and more competitive sale and lease transactions. Of course, our ultimate goal is always to provide a higher level of service to our clients and quicker and better results.
Collectively our team works together to ensure our marketing initiatives are top of the line and that we are getting meaningful information to our various audiences.
This article appeared in our company newsletter in October of 2021. Please click here to download the entire newsletter.