With just 123,719 sq. ft. of positive absorption in the fourth quarter, comprised of the delivery of a 154,000 sq. ft. Costco store in Sarpy County, the Omaha Metro retail market ended 2016 with 18,867 sq. ft. of negative absorption.
Overall, we have seen increases in vaca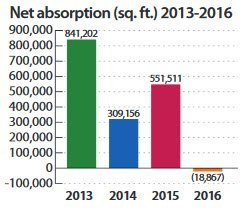 ncy rates due in large part to the closure of multiple national retailers including Office Max, Best Buy, Sports Authority, Super K-Mart, Hy-Vee and Hancock Fabrics, some of which have suffered declining sales due to increased competition from online retailers, or "e-tailers." We will likely see a slow decrease in vacancies due to larger vacancies being backfilled in 2017, e.g. the former Super K-Mart at 132nd and West Maple Rd, the former K-Mart at 144th & Millard Ave and other larger vacancies will likely be subdivided into 15,000 to 20,000 sq. ft. bays to appeal to service businesses or smaller retailers.
While we believe the overall retail market is relatively healthy, competition continues to increase between brick and mortar stores and online retailers. As a result, some retail shopping centers have transformed into service centers occupied primarily by dentists, chiropractors, gyms, restaurants, hair salons and other service businesses. It has become increasingly difficult for property owners and brokers to find quality retail operators who are able to compete with Amazon and the numerous other e-tailers that are continuing to eat away at consumer dollars.
New construction is set to add 133,951 sq. ft to the retail market with the majority, 85,603 sq. ft., located in the Southwest submarket. In the smaller neighborhood shopping centers we will likely see increased competition from newer product coming on the market and a flight to quality much like what we have seen over the last several years, lending credence to the phrase "a bird in the hand is worth two in the bush.
By Brian Kuehl
This article appeared in our quarterly newsletter from March of 2017. The full newsletter is available at http://files.investorsomaha.com/download/IR_newsletter_March_2017.pdf