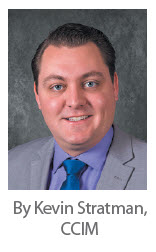 The pipeline of new industrial construction shows no signs of slowing down in 2018, and it appears that this trend will continue well into 2019 and beyond. Over 1.3 million square feet of new industrial and flex space was constructed in the Omaha metro area in 2018, excluding data centers. Highlights include Thrasher, Inc.'s new headquarters off of 120th and Valley Ridge Drive in Papillion, completion of R&R Commerce Park Warehouse 1 off of Highway 50 and Highway 370, and Building 2 in Krambeck Industrial Park located off 156th and Schram Road. A handful of smaller flex and industrial projects made up the remainder of new construction in 2018. This volume of construction shows an increase in completed construction from 2017, where the market added just under one million square feet.
| Address | Size | Type | Notes |
| --- | --- | --- | --- |
| 14472 Gold Coast Rd. | 250,000 sq. ft. | Spec | R&R Commerce Park Warehouse 1 |
| 11844 Valley Ridge Dr. | 213,598 sq. ft. | Owner/User | Thrasher, Inc. Headquarters |
| 11652 S 154th St. | 184,320 sq. ft. | Spec | Krambeck Industrial Park Building 2 |
| 10364 S 136th St. | 150,000 sq. ft. | Owner/User | Ford Storage Expansion |
| 11850 Portal Rd. | 83,000 sq. ft. | Spec |   |
What is exciting is not what happened in 2018, but what lies ahead. The Investors Realty Industrial Team is tracking over 2.5 million square feet of construction projects in the pipeline. These projects include a variety of build-to-suits, speculative construction and owner/user properties. Notable projects currently under construction include Omaha Box Company's new headquarters (335,000 square feet) off 150th and Schram Road, R&R Commerce Park Warehouse 2 (250,000 square feet), and the new Kenworth dealer (105,000 square feet) off of 156th and Interstate 80. Several large users that are currently active in the market will keep this pipeline flowing well into 2020.
Although this amount of new construction is promising, the market still lacks shovel-ready industrial sites. Large tracts of land with utilities are still tough to come by. I-80 Logistics Hub, a 140-acre industrial park located off of 132nd and Cornhusker Road, should satisfy some of this demand. Grading and infrastructure work on this project is slated to begin this spring. It will be the largest new industrial park development in the Omaha area in recent history.
Despite all of this new construction, the overall vacancy rate remains low. According to CoStar, the Omaha Industrial Market ended 2018 with a vacancy rate of just 3.2 percent. Even more impressive, the vacancy rate has not been higher than four percent in over five years. This tells us a couple things. First, new speculative construction is generally being leased. Secondly, second generation space left behind by companies relocating to newly constructed properties are being backfilled. Additionally, as a result of rising construction costs over the past few years, rents have increased on new construction. Combined with the low supply, this has pushed rents up on existing product.
Overall, we believe the current Industrial Market is healthy, but frankly lacking inventory. Going forward into 2019 and beyond, we believe we will continue to see robust construction activity and we expect a larger portion of that new construction to be geared toward speculative construction.
By Kevin Stratman, CCIM
This article appeared in our company newsletter in March of 2019. Please click here to download the entire newsletter.