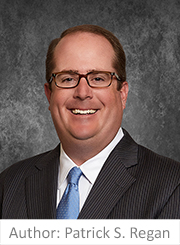 THE BRIGHT SPOTS
Low unemployment and higher wages gave consumers increased spending power at the end of 2018. These factors along with an extended holiday season led to a six-year record for holiday retail sales.
Nationally, neighborhood centers and strip centers continued to fill vacancies, and two factors largely accounted for this. First, there was a decrease in construction activity. Secondly, 2018 saw the continued expansion of retailers looking to fill these centers such as fitness users, beauty and cosmetics, off-price apparel, food and beverage, medical, dollar stores, and discount and specialty grocery.
There continues to be reinvention in retail centers, which should help keep the U.S. consumer interested. Some of the most interesting trends include specialty-focused retail destinations revolving around one theme such as health or food, and a greater understanding of middle class shopping patterns, which can be used to help drive shopping center visits.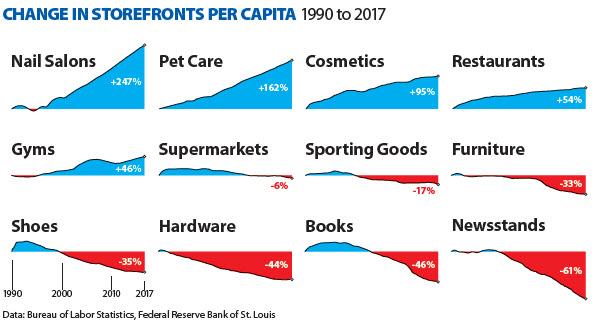 THE CHALLENGES
Strong consumer spending led to some short-term relief. However, there continue to be major changes in the shopping center world, most notably the continued increase in online shopping and delivery.
The growth in online shopping most visibly affects department stores and apparel stores. These retailers continued to be the top two categories to announce store closures in 2018.
Malls are most impacted by this shrinkage, and we continue to see malls across the country undergoing major changes. Strong malls will continue to increase sales while weaker malls will have to find ways to reinvent themselves.
Many predict economic growth to continue in 2019, which will give department stores and brick and mortar apparel time to reinvent themselves. However, if ongoing geopolitical events negatively affect the economy, you will likely see an increase in bankruptcies from struggling retailers and even some of the healthier ones will rein in expansion.
Generally, the sentiment about the U.S. retail market from the top research firms across the country is that occupancy growth from restaurant and food-related concepts will soften due to years of growth as well as inflationary pressures in food costs and wage growth.
THE LOCAL SCENE
Omaha has experienced a lot of similar patterns to the rest of the U.S., and there are certainly positives happening that will continue to make Omaha a great place to live and work. However, it is interesting to look at the swift changes at Omaha's malls in 2018.
Westroads Mall and its surroundings continue to strengthen with new tenant announcements such as Top Golf and future redevelopment including the highly visible auto dealerships that are relocating to Heartwood Preserve
Crossroads Mall continues to look for redevelopment direction. Late in 2018, Sears announced its closure after 58 years at the location, ending a 90-year history of Sears stores in Omaha. This was the last operating store in Omaha for Sears Holdings, which closed its last Kmart at 50th and L St. in early 2018.
Oakview Mall and its once popular ring road also continues to look for direction. Younkers and Sears have closed (Investors Realty, Inc. is marketing the properties for sale), the building housing the now closed Dick's Sporting Goods and Babies R Us stores sold to an out of town investor in late 2018, the former Sempek's in the old Linens 'n Things location remains on the market, and the old Hy-Vee has been re-purposed as a church and a cheerleading venue. Although both Crossroads and Oakview appear destined for different uses, it is undeniable that locations that cannot be recreated will eventually be repurposed.
Finally, there continues to be strip center development in western Douglas County and in Sarpy County, but there have not been any major new retail or power center developments announced. The businesses locating in strip centers continue to follow the national trends of food and beverage and service-oriented tenants.
This article appeared in our company newsletter in March of 2019. Please click here to download the entire newsletter.