OMAHA'S OFFICE MARKETS IS STARTING TO RECOVER
After being down by about 30% in 2020, Omaha's office market saw more total lease transactions in 2021 for more total space than in any year since our firm has tracked it, 281 transactions for nearly 1.8 million square feet. In addition to leasing activity, net absorption was positive 310,391 sq. ft., and Omaha's overall vacancy rate contracted slightly to 9.1% over the year. In turn, year-over-year market rent growth reached its highest point since pre-COVID-19.
LEASE TRANSACTIONS IN 2021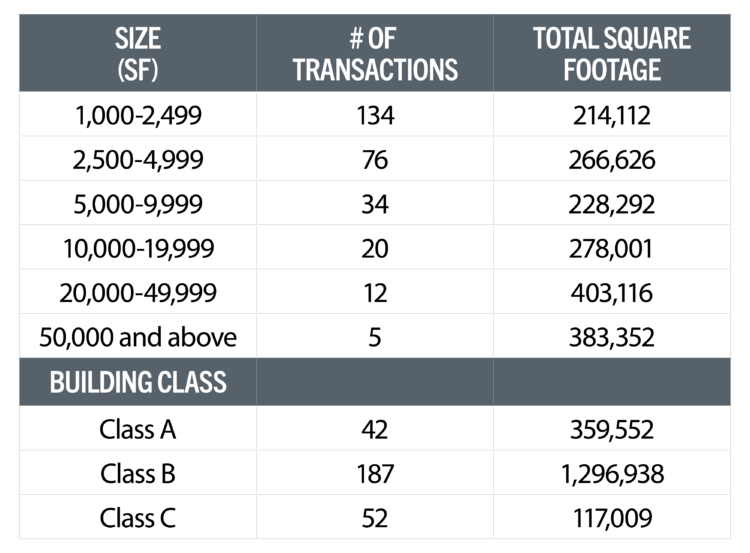 It seems fair to describe the market as stable as we are not seeing large swings in space availability and pricing, but we continue to see office users choosing to wait and see on decisions affecting demands for office space. Most of the numbers are trending the right way, albeit slowly, but Omaha's vacancy rate is more than 300 basis points higher than seen in many years before the pandemic, and we finished 2022 with 324,398 sq. ft. of sublease space available, more than we have tracked historically.
Office sales activity was strong in 2021, with total sales volume roughly matching pre-COVID-19 levels. Businesses faced with the prospect of coming out of pocket for significant tenant improvements or the ever-increasing cost of new construction are looking at purchasing an existing building as their best solution.
While the last few years we have seen a boom in new construction, 2021 was more the year of "deliveries." At the end of 2020, there was 1,100,000 sq. ft. under construction and much of that was in its final stages of completion. That led to the notable deliveries in 2021 including LinkedIn at 132nd and Pacific St. (200,000 sq. ft.), the Carson Wealth buildings at 144th and West Dodge Rd. (120,000 sq. ft.), Valmont Headquarters at 144th and West Dodge Rd. (130,000 sq. ft.), Centris Headquarters at 132nd and Pacific St. (115,000 sq. ft.), and the Waterford Building at 192nd and West Dodge Rd. (180,000 sq. ft.).
In contrast, at the end of 2021, there was only 353,000 sq. ft. under construction between two buildings: Applied Underwriters and Union Bank & Trust, both located in Heartwood Preserve. We see this continuing in 2022 as many companies are still working remotely, creating less demand. We are optimistic this will change as more employers bring their employees back to the office and eventually upgrade their space, although we believe this return to the office will occur slowly over a few years.
Employers will also be rethinking how they promote their work opportunities to potential employees, and flexibility along with new office space construction will be major components of the future employment conversation.
To view the full Omaha Year-End Office Report, please click here.
This article appeared in our company newsletter in March of 2022. Please click here to download the entire newsletter.