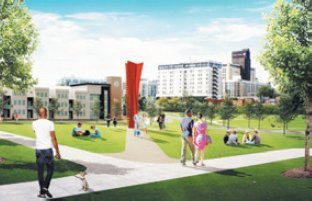 In May 2016, officials announced that Creighton University Medical Center (CUMC) would be converted into Nebraska's largest single structure of market-rate apartments. With up to 700 apartment units and a retail corridor planned, the development will make use of what would have become an obsolete building while creating a positive ripple effect on the neighborhoods surrounding it. In addition, City of Omaha officials have praised the project for saving "truckloads of steel and concrete" from area landfills.
NuStyle Development is leading the project with an aim to restore a community feel to an area that became isolated after the construction of Interstate 480. More recently, the area near CUMC has not seen the same level of attention or investment as nearby neighborhoods such as Midtown Crossing and the Blackstone District.
Investors Realty's Ryan Zabrowski and R.J. Neary worked with NuStyle to overcome obstacles and make the CUMC project a reality including decommissioning the hospital and getting approval to build a pedestrian bridge over the Interstate to provide access to Creighton University's campus. The two have been working on saving and repurposing buildings that have outlived their usefulness throughout their careers.
They began facilitating discussions between NuStyle and Creighton in 2012. NuStyle has become known for saving and reimagining obsolete structures into housing. Other projects the company has worked on include the Wire, an old telephone company building at 19th and Dodge Streets, now housing 300 apartments, and the Highline, an office building that was converted into 194 apartment units at 22nd and Dodge Streets with an additional 114 apartments near completion.
Zabrowski views the CUMC project as another anchor and connector neighborhood that will positively benefit adjacent neighborhoods and mixed-use developments, including 75 North's Highlander neighborhood development about ten blocks to the north on 30th Street.
"I have learned about the importance of momentum and good anchors in development. Due to the commitment that so many neighbors surrounding the area have made, this project will be tremendously successful," he said.
NuStyle will add floors to the building for a total of 10 floors and 1 million square feet of space. Tenants will be able to enjoy bright atriums and a glass-enclosed rooftop pool. NuStyle is hoping to add approximately 10 retailers to up to 15,000 square feet of retail space on the ground level of the development. Shops and dining options will meet the needs of the tenants, neighborhood, Creighton students and the patients and staff of the Boys Town National Research Hospital, which is attached to CUMC and will remain in operation.

The 700-foot pedestrian bridge will be constructed across the North Freeway. The bridge will allow Creighton students, expected to make up about 50 percent of the building's tenants, to safely walk to and from campus.
Additionally, developers will install new walking and biking trails to connect the Gifford Park neighborhood and Midtown Crossing with "The Landing." A 2.5 acre lake will help beautify the property while serving a secondary purpose of collecting rainwater and snowmelt, which will benefit about 40 acres of land to the west. A parking lot to the west of the hospital is the future site of a new elementary school for the Gifford Park Neighborhood, yet another benefit to the transition of the property between an owner and a developer who are both community-minded.
CUMC will close in June 2017, with the teaching programs and trauma center relocating to new facilities currently under construction at Bergan Mercy Medical Center and clinic functions relocating to a new Ambulatory Care Center at 24th and Cuming Street. The hospital will operate as usual until that time and patient services will not be disrupted.
The apartments will open in phases with the first wave of residents expected to move in during the summer of 2018, and the last wave by the end of 2019. The cost to rent an apartment will range from $700 for a one-bedroom unit to about $1,500 for a three-bedroom unit. All units will have a washer and dryer and most will have a balcony or terrace.
Zabrowski said the development is one of the largest apartment redevelopment projects underway in the country and one that developers in other cities will look to for inspiration. He said the project could not have been possible without the support and thoughtful input of numerous partners and stakeholders.
"I have never been part of a project with so many parties involved. The collaborative spirit of those involved in supporting NuStyle's vision has been remarkable," he said.
This article appeared in our quarterly newsletter from December of 2016. The full newsletter is available at http://files.investorsomaha.com/download/online_newsletter_12_2016.pdf