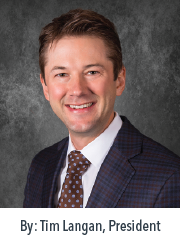 2020. What a year. As I write my first year-end letter as the new President of IRI, we are still in the midst of the global pandemic that started in the U.S. in the spring. Since March, we have learned many lessons about many things, such as the connectivity of our planet, the value of human interaction, the way we use and will continue to use shared spaces, and the importance of family. We will continue to learn and make sacrifices as individuals and organizations as we head into the holiday season. The world changed dramatically this year, and I hope everyone has found a bit of peace amongst the chaos.
At Investors Realty, one thing that has not changed is our gratitude for every opportunity we have to serve our clients, collaborate with stakeholders, and to work across all business sectors in Omaha in our mission to deliver client-focused real estate solutions. This year has once again reminded us how fortunate we are to do business in the great city of Omaha where our midwestern values insulate and protect our industry from the volatile highs and lows that are experienced in other regions.
So, what's been happening at Investors Realty?
2020 marked the beginning of a five-year plan focused on developing human capital, improving technology and adding complementary services all aimed at improving our clients' experience. The following are some highlights:
Flexibility… it's the name of the game! This year has highlighted the resilience and dependability of everyone in our company. Like most other companies around the world, Investors Realty has many people working remotely. Because we foster an environment of trust within our culture, we know we can depend on each other to get the job done even though we may not see each other every day. We are "getting it done" both at home and at work, sometimes through different methods and at different times of day. We know that flexibility is increasingly important in attracting and retaining good employees, and that everybody wins when you get the right people in the right places.
Value-Added Services. We have focused on establishing and growing Project Management and Facilities Management services to complement our Brokerage and Property Management services.


Jason Velinsky, Director of Project Management, has successfully completed several buildouts, renovations and restoration efforts that are making it easier for property owners to focus on the big picture and leave the details to us. Jason's services have resulted in increased occupancy, added value to community projects and, in the case of Enterprise Industrial Park near 13th and Locust Street, the transformation of our city's landscape.

Facilities Management was formalized to assist large tenants with real estate needs within leased spaces and to represent the tenant's interest with landlords. Todd Trimpe directs this effort and has also created a niche service providing management and compliance assistance to busy medical clinics. Todd works with hospital administrators, clinic leaders and maintenance staff to ensure these facilities are operating at optimal efficiency and in accordance with all applicable regulatory requirements.
We are confident that these services will continue to prove valuable as additions to our brokerage and property management services, which have been our foundation for 45 years.
As we all navigate the uncertainty of the next several months, your friends at Investors Realty will be here to serve your immediate real estate needs. We will continue to look forward, to anticipate what is next and to focus on constant improvement in our service to customers.
Thank you for your trust and have a safe and happy holiday season.
This article appeared in our company newsletter in December of 2020. Please click here to download the entire newsletter.