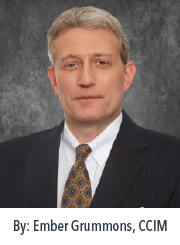 The Investment property market in Omaha has come roaring back in 2021, fueled by pent-up demand, receding COVID-19 concerns and extremely low borrowing costs. Borrowing rates continue to decline, with rates in the low to mid three percent range being common.
Excluding multi-family and hotel transactions, the 12-month trailing volume through November 30, 2021 was $377 million, a 40% increase compared to $270 million for 2020.
SIGNIFICANT SALE TRANSACTIONS IN 2021, EXCLUDING MULTI-FAMILY AND HOTEL SALES:
OFFICE:
Sale of the Valmont Plaza buildings in Bank of the West Park for $26,700,000
Sale of the Orion Advisor Solutions headquarters buildings at 178th & West Center Rd. for $21,900,000*
Sale of the Miracle Hills Intrado buildings (formerly known as West Communications) for $17,200,000
Sale of the C&A Industries office building at 136th & West Dodge Rd. for $19,700,000
Sale of the Midwest Eyecare building in Bank of the West Park for $7,400,000*
RETAIL:
Sale of the Metro Crossing power center in Council Bluffs for over $50,000,000 (this is one of the largest retail transactions on record for the Omaha metro)*
Sale of the Hy-Vee located at 108th & Fort Streets for $11,400,000
Sale of the Canfield Plaza shopping center for $7,050,000*
Sale of the Oakview Mall shopping center for $5,700,000
INDUSTRIAL:
Sale of the Blue Buffalo distribution building located in Bellevue for $24,400,000
Sale of the HI Park flex-industrial complex for $11,400,000*
Sale of two multi-tenant properties in the Hill Top Industrial Park for $8,500,000*
MINI STORAGE:
Sale of 522 units at 181st and Harrison St. for $10,600,000
Sale of the former 3D Storage facility at 104th and Harrison St. for $9,800,000
Sale of the facility at 74th & Farnam St. for $8,200,000
The buyer for all three properties was Public Storage; affiliates of McGregor Interests were the sellers on two of the three transactions
It is noteworthy that a significant amount of 2021's dollar volume came from office transactions involving Lockwood Development. Lockwood sold the Orion property for nearly $22 million and purchased two properties requiring re-tenanting for almost $44 million. These three transactions accounted for 18% of this year's dollar volume.
Interest in retail shopping centers has been increasing, with grocery-anchored shopping centers being particularly in demand. Retail offers a higher yield compared to the other sectors, and investors seem to be getting comfortable that tenants who have adjusted and survived internet competition and COVID-19 will continue to be able to pay rent. Class B enclosed shopping malls are the exception, with Oakview Mall selling for a shockingly low price of $15 psf.
Demand for Industrial property is strong and continues to increase.
Investment demand is as strong as I have seen in my career, and the most significant limiting factor in the market now is a lack of quality product. So this is a great time to be a seller, in my opinion.
*These property transactions were handled by Investors Realty.
This article appeared in our company newsletter in December of 2021. Please click here to download the entire newsletter.