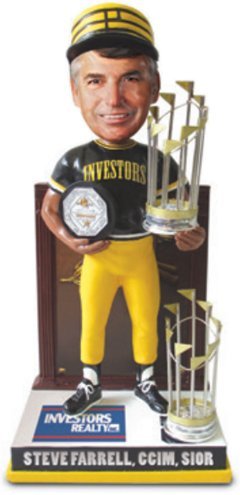 Congratulations to our Co-founder Steve Farrell on his entry into the Midwest Commercial Real Estate Hall of Fame! His vision, knowledge and hard work inspires our entire company to deliver the same unsurpassed level of service for all our clients!
Below is the article as it appear in the Dec/Jan 2016 Issue:
The bio: Steve Farrell co-founded Omaha's Investors Realty with Jerry Heinrichs in 1975. Since then, the company has grown, thanks in large part to his leadership, to become one of the top commercial real estate firms in the Omaha market.
Farrell's peers credit him with helping to set the culture at Investors Realty. Farrell long preached that brokers should always serve the needs of their clients first, that attention to detail mattered and that market knowledge and honesty needed to be key traits at the company.
That formula has paid off, both for Farrell and Investors Realty. Farrell has created a CRE career that has lasted for more than 44 years, and has ranked as one of the most successful CRE professionals in the Omaha market during this time.
During his long career, Farrell has led some of the most important CRE projects in Omaha and its suburbs. He led the leasing of about 300,000 square feet in North Park to corporate tenants such as World Insurance, Convergys, AAA Life, TPG, Alegent, United Healthcare and Allstate Insurance. He also led the eventual sale of North Park, a sale of $70 million.
Farrell led the leasing of 200,000 square feet at Oakview Plaza to retailers including AMC Theatres, Dick's Sporting Goods, Old Navy and Toys R Us, and also led the $30 million sale of this retail center. Farrell played an important role, too, in the site acquisition and development planning and sales of Village Point Auto Plaza and the Performance Auto and Baxter Auto dealerships in Omaha, Bellevue and Lincoln.
New challenges: Every deal is a different challenge. Completing the deal gives me a lot of satisfaction that I have helped a client solve a problem or satisfy a need. And, of course, I get paid.
The successful approach: My focus has always been on the client relationship and doing the best job I can with a no BS approach.
Out-of-office hours: Farrell admits that he does enjoy working even when he's not in the office. But when he's really ready to relax, Farrell prefers to travel.
Staying involved: During his more than four decades in commercial real estate, Farrell has volunteered plenty of time to his industry. He is a past president of the Nebraska CCIM Chapter and a current member of it. He is a member of the Iowa/Nebraska CCIM Chapter and a member of the Omaha Board of Realtors.