As Downtown Omaha prepares for a busy summer, our property management team is working hard with tenants and event coordinators at The Capitol District to ensure that downtown visitors have a memorable experience.
The Capitol District is a destination dining and entertainment district surrounding an open-air plaza. The district is home to restaurants, bars, entertainment venues, apartments and the Marriott Omaha Downtown. Year-round, The Capitol District hosts events in the plaza, including live music, game watch parties, outdoor movies, yoga and winter programming.
The largest downtown event of the summer, the NCAA Men's College World Series, takes place from June 16-27 and will attract tourists from all over the country who follow their teams to Omaha. Below are a few measurements of the economic impact of this event as reported by College World Series of Omaha, Inc.:
Overall economic impact (2019) – $88,300,000
Wages and salaries (2019) – $29,000,000
Tax collections (2019) – $8,700,000
Total in-person attendance (2019) – 332,000
Percentage of attendees from outside of Omaha (2019) – 71.2%
For property managers, there is a lot of preparation required to meet the demands of this popular Omaha event and to make sure The Capitol District, Nebraska's first designated "Entertainment District," provides patrons with a fun and safe environment. Here are some highlights: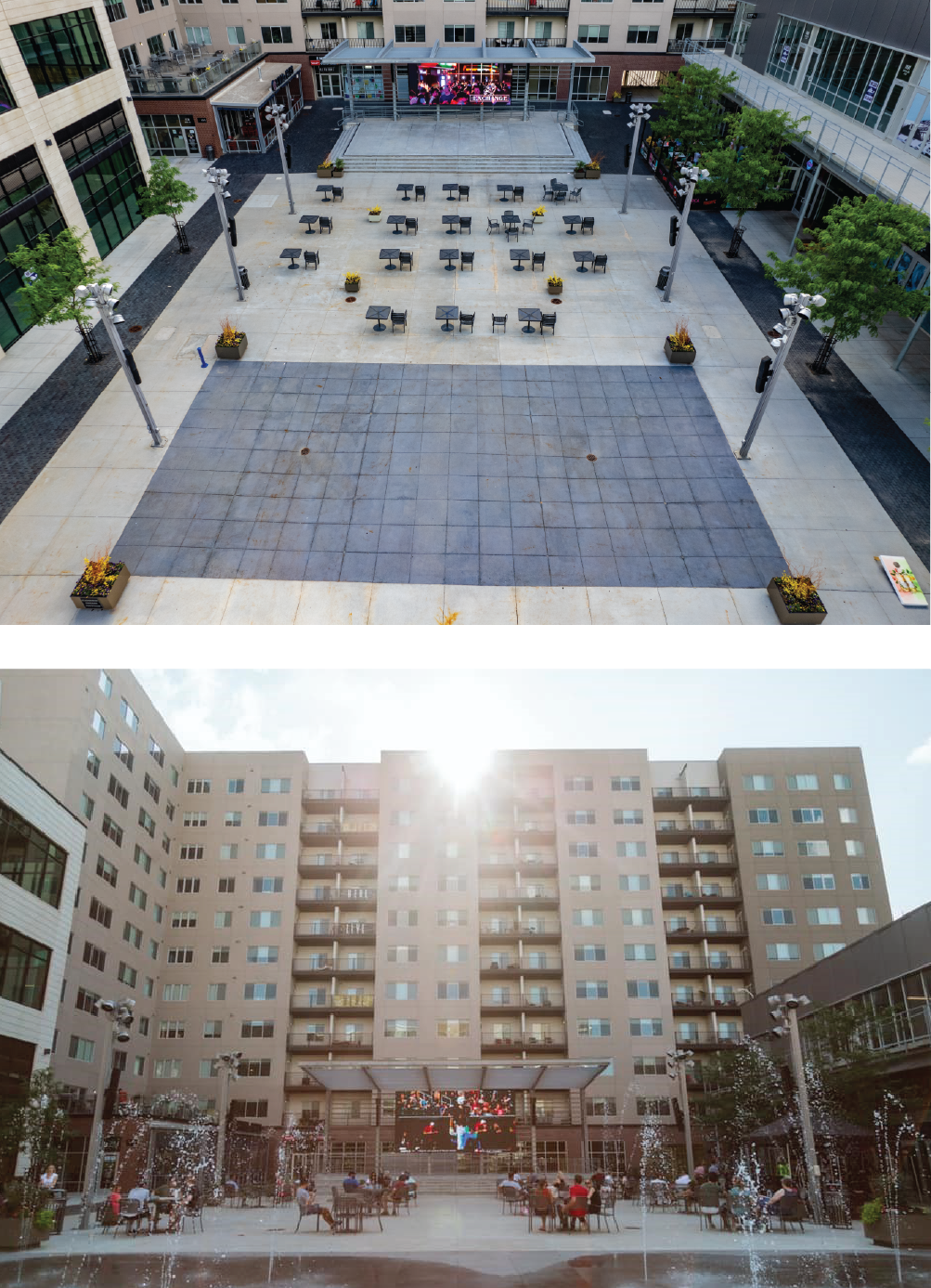 SECURITY
Install barricades to control vehicle and pedestrian traffic
Additional security is contracted in anticipation of high visitor volume
SET UP AND TAKEDOWN
Ensure that the Beam, The Capitol District's giant outdoor LED screen, is activated and ready to broadcast each game taking place at the baseball stadium
Install 40' x 60' tents to ensure a comfortable outdoor environment
Work with and communicate closely with our vendor teammates and event coordinators so that our guests have the best experience possible
MAINTENANCE AND JANITORIAL
Additional trash receptacles (large and small) are brought to the property and strategically positioned
Maintenance and janitorial presence are increased to provide just-in-time service
LANDSCAPE AND AESTHETICS
Fountains in the center of the plaza are activated in the Spring and ready to cool down our summer guests
Irrigation system is turned on, and backflows are installed
Pots and planters are prepared and positioned for visitors to enjoy
In short, it is no small task to prepare for the activities that summer brings to The Capitol District. It takes a team, and Investors Realty is grateful to have a role on that team.
We are looking forward to a fruitful summer in Downtown Omaha. Please be sure to visit The Capitol District when you are in the area to watch baseball, see a concert, attend the Summer Arts Festival or enjoy any of Omaha's other great downtown attractions. Visit www.CapitolDistrictOmaha.com to learn more and plan your next excursion.
This article appeared in our company newsletter in June of 2022. Please click here to download the entire newsletter.