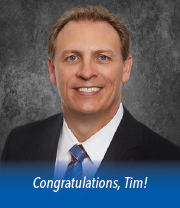 Tim Kerrigan was recently inducted into Midwest Real Estate News' Commercial Real Estate Hall of Fame. A 25-year veteran of the industry, Tim has been one of the Omaha area's top office brokers for more than a decade, and a leader in land sales, particularly in the fast-growing Elkhorn area.
"I had the good fortune to hire and work with Tim over the past 25 years," said Steve Farrell CCIM SIOR, co-founder of Investors Realty. "In my humble opinion, no one has worked harder on his clients' behalf, so his success is well deserved."
Tim is now Vice Chairman of the Board at IRI and Managing Broker for the firm. We are all very fortunate to have Tim as a leader within IRI, and we are very proud that he is being recognized as an industry leader as well.
Tim is the fourth member of IRI to be recognized as a Hall of Famer along with Steve, Jerry Heinrichs and R.J. Neary.
This article appeared in our company newsletter in December of 2020. Please click here to download the entire newsletter.