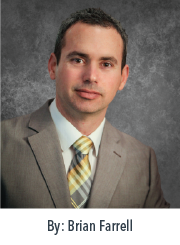 The Retail sector continues to be in a state of flux and change. Over 9,000 retail stores closed nationally in 2019, over 50% more than 2018, and we suspect 2020 will be similar. These are primarily category killers and big box retailers like Payless Shoes, Sears and Walgreens, that in our opinion have not invested in technology and understanding the needs of their current customers. Certain brick-and-mortar retailers, like traditional grocery stores, remain steady, but are adding online shopping options to meet high demand. The serious challenges for the retail sector are unlikely to reverse for concepts that remain stagnant. Retailers are shedding real estate in markets around the country. Retail bankruptcies continue to be a dominant theme in commercial real estate, and this is during an economic expansion. In the event of a cyclical downturn, retail is likely to be at even higher risk.
E-Commerce accounts for the majority of overall growth of retail consumer spending, and continues to shift demand from brick and mortar to virtual storefronts and industrial warehousing. While e-commerce is negatively impacting the retail sector, there are benefits to the industrial sector. Amazon, HyVee and others have added, or plan to add, industrial distribution facilities in Omaha and around the country to service online shoppers. Shopping centers are focused on experiences, unique gathering spaces, special amenities and entertainment to attract and keep customers coming in. Traditional retail is not dead though. There is still demand for food, fitness and spas, entertainment and items or experiences that cannot be sold online. Grocers, pharmacies and others continue to adapt with mobile ordering, delivery and drive-through pick-ups. Neighborhood and convenience centers are mostly populated by service businesses like restaurants, gyms and fitness, and medical uses.
While online shopping has caused store closings, some online retailers are establishing brick and mortar footprints for the first time. More companies are likely to follow Amazon, Casper and Athleta's moves to brick and mortar, which could provide some balance for the glut of space left behind. Many e-commerce businesses that have thrived the last several years are considering an aggressive push into brick and mortar, understanding what their customers want and expect from their buying experience.
Locally, activity for retail real estate has been good. Other than a few big box spaces, such as Shopko, Supersaver and certain mall stores, strip centers and neighborhood centers are experiencing fairly healthy occupancy rates, and rents remain stable to moderately increasing. Grocers and service providers are still staking out new territory as the march south and west continues. Ground prices and construction costs, which have been on the rise for over five years, are seeing new highs. These Class A rents are nearly double rents for Class B neighborhood and convenience centers. However, we predict ground prices and rents for Class A locations will start to flatten in 2020, after seeing consistent increases over the past 10 years. Rising construction costs have caused many developers to take a different approach by constructing attractive flex buildings that provide space for retail, service and light industrial users in the same building. They offer minimal landlord provided improvements and tenant finish dollars, but at rental rates many local tenants can better afford. This change at times requires the tenant to provide some significant capital up front.
Last, the Tax Cuts and Jobs Act has created Opportunity Zones with preferred tax treatment. This provides opportunities in designated areas of Omaha that present strong upside potential. The program was created in 2019 to drive economic development in underserved communities in exchange for a hefty tax break and has already attracted a substantial amount of investment around town.
This article appeared in our company newsletter in March of 2020. Please click here to download the entire newsletter.