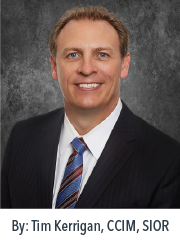 The Omaha office market saw strong performance in 2019, with 577,000 square feet of absorption. There were 202 office lease transactions (larger than 1,000 square feet each) totaling 1,033,881 square feet. The market ended the year with a 5.4% vacancy rate and 1.3 million square feet under construction. The most notable transaction was LinkedIn's 200,000 square foot build-to-suit lease at Sterling Ridge, a development which is seeing significant new construction in the office, institutional and residential sectors. These factors all compare very favorably to the office market performance over the past few years.
The market has seen several large user transactions result in significant new construction, which we have summarized in the full Office Report. Owner-users are also driving the market forward with acquisition of existing buildings. Metropolitan Utilities District (MUD), Douglas County, JD Heiskell, the Archdiocese of Omaha, Pat Sodoro Law, Woodsonia Real Estate and White Lotus Development are examples of users buying existing product intending to occupy it themselves. The new construction is born from a need for space that simply does not exist today – in size, location or amenities. Existing building purchases are frequently an economic or timing decision, as buying existing property is significantly less expensive and quicker than building new.
The Investors Realty Office Team is tracking 60 tenants currently in the market seeking a total of nearly one million square feet of office space. Approximately half of the demand is very active and/or from users who have a critical timing or space issue to address. Omaha is fortunate to see an abundance of new construction to satisfy the demand. The new construction, while largely driven by users, will bring with it some new space available for lease as will the space being vacated by those moving into the new product. The sublease market has also played a role. Tree House Foods subleased approximately 42,000 square feet over the last year in Old Mill, and WPS Health Solutions is offering 70,000 square feet for sublease in North Park. These sublease offerings can be an affordable option if the space generally works for the user because they are often recently improved and may include furniture. Brokers report limited options to lease – in all sizes – for good second generation office space with existing improvements, services and amenities nearby. If the overall economy remains stable, we think 2020 will likewise see a fairly stable to strong performance in Omaha's office sector.
To view the full Omaha Office Report, please click here.
This article appeared in our company newsletter in March of 2020. Please click here to download the entire newsletter.