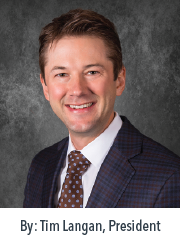 Several years ago (circa 2012), Investors Realty launched a marketing campaign called "Behind the Sign." It was an effort to communicate and emphasize all the steps and detail necessary to foster a successful real estate transaction, from property marketing to number crunching to successful negotiating and everything in between. It was also meant to highlight the people who did the work both on the stage and backstage. It was a clever and fun campaign and it was a reminder that it takes a team with specialized expertise to get the job done right.
Our company has changed a lot since 2012. During a few recent drives around Omaha, I was amazed by the amount of blue and red Investors Realty signs at office buildings, retail centers, and industrial centers all over the city. Head further west, down Interstate 80 and toward the edges of the city, and you will see our signs on land listings and sites for future development.
All of our signs reminded me of the old marketing campaign and sparked questions. How are we different now than we were ten years ago? What does "Behind the Sign" mean now?
We are different in many ways: we are bigger; we have more service offerings; we have better systems and processes; we have improved our technology; and we have more listings, more managed buildings, and more signs around Omaha!
On the other hand, the meaning of "Behind the Sign" has not changed.
On our brokerage teams, it means that our salespeople and our staff are going the extra mile to make sure we are matching people with properties, getting the best price, and helping clients realize their goals. In property management, it means our managers, accountants, and maintenance technicians are working together to keep properties physically and financially healthy and to keep tenants satisfied. And, behind the sign, our project management team is keeping construction projects on task and within budget. Behind the Sign, we are doing the blocking and tackling of commercial real estate…and we are having fun doing it.
Results in 2022 have been positive. As we approach the end of the calendar year:
total number of sales transactions and dollar volume are down from 2021 levels but above our five-year average,
total lease transactions are consistent with our five-year average, but total value of lease transactions is 50% higher than the five-year average,
our brokerage team has closed 437 transactions totaling more than 28 million square feet and $350 million in value.
2022 presented challenges too. Like most businesses, we were affected by a tight labor market that resulted in turnover. Nonetheless, we were reminded that every cloud has a silver lining and short-term challenges became opportunities to integrate new, talented problem solvers who share our core values: client focused, accountable, educated, ethical, and grateful.
As always during this season of gratitude and reflection, we are grateful to everyone at Investors Realty and to their families who lend them to us during the week. Their dedication and service is unmatched. We are also grateful to our clients: you are the "Investors" for whom our company was named in 1975. Without you there would be no blue and red signs.
Thank you for your trust.
This article appeared in our company newsletter in December of 2022. Please click here to download the entire newsletter.