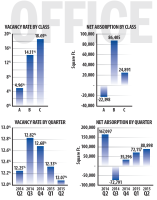 By Tim Kerrigan, CCIM, SIOR
While it sounds like a repeat of our last report, Omaha's office market continues to be steady. Most of the activity continues to be on West Dodge Road and in Aksarben Village. HDR recently announced plans to move its headquarters to 11th and Dodge (11th to 12th and Capitol to Dodge) in 2019, which is the most meaningful news of the year for the office market. HDR's plans are an obvious boon for downtown Omaha, especially The Capitol District just north of HDR's site. The move will also create an exciting opportunity in Midtown Omaha when HDR vacates its current office space.
There has not been any new office construction in the past quarter, but there continue to be some large users in the market who may drive construction next year. \The overall market saw positive absorption in Q2 2015 of 88,898 sq. ft. and positive absorption for the first half of the year of 161,015 sq. ft. Absorption is the net change in occupancy from period to period, expressed in square feet. This indicates solid market performance, but is about what we would expect. After more than four years of the market's absorption being driven by Class A space, both quarters of 2015 saw the Class B market responsible for a majority of the positive absorption. While this bodes well for Class B, it is important to note this is in part due to the low availability of Class A space, which makes leasing and absorption more difficult.
Overall, market vacancy rates are down to 12.1% for Q2 2015 from 12.3% in Q1. The Class A rate is up to 4.5% Q2 from 4.2% Q1, due to new Class A construction. In that same period, Class B is down to 14.1% Q2 from 14.6% Q1 and Class C is down to 18.7% Q2 from 20.0% Q1.
In the second quarter of this year, Average Asking Rental Rates saw little movement. Considering the growing landlord confidence in the overall market, we expect to see moderate increases in Average Asking Rental Rates over the balance of the year.
The Investors Realty Second Quarter Office Report identified 10 large transactions (8,000 sq. ft. or larger) for Q2 2015. Seven of the transactions are leases, but five of those are renewals. Q2 2015 only saw two significant new leases compared to seven new leases in Q1 2015. We like to see businesses renewing and expanding, but we would still like to see a few more new large leases. This is likely indicative of a timing anomaly rather than a trend, but we will report further if we see a trend developing.
This article appeared in our quarterly newsletter from September of 2015. The full newsletter is available at http://files.investorsomaha.com/download/online_newsletter_9-2015.pdf