Quality parks and recreation opportunities are essential ingredients to measuring the quality of life for a city and its residents. In the Omaha area, we have seen and will continue to see even more parks, park upgrades and other recreational venues developed within the next couple of years. The American Rescue Plan Act (ARPA), along with a healthy dose of private philanthropic donations and entrepreneurial investment, is leading the way to a variety of new park features and kids' recreational, practice and competition venues popping up in the Metro area.
We have all heard about the $350 million redevelopment of the Gene Leahy Mall, which opened to the public this summer. In addition, the Heartland of America Park and RiverFront Landing, which will connect to the Mall, will be completed over the next couple of years. Nearly all of this development is being privately funded by philanthropic donations.
Recently completed improvements to Miller Park, located near 30th and Redick Ave., include a new pavilion, amphitheater, walking trail, dog park and other enhancements, mostly funded by Lozier Foundation.
Lake Cunningham recently completed renovations, including 6.2 miles of new walking/biking trails, boat docks and other upgrades to the park area. The renovations were completed with the help of approximately $23 million in private funding and a partnership with the City of Omaha and the U.S. Army Corps of Engineers.
ARPA funds totaling $7.95 million are designated for numerous park renovations around the Omaha area over the next couple of years:
Fontenelle Park – renovation of the Pavilion
Manadan Park – Nature Center and trails
Pipal Park – new playground and sprayground (water park feature)
Paxton/John Creighton Park – new trails
Lynch Park – new playground and spraygound, ballfield upgrades and more. Numerous other smaller renovations to other City parks.
Also under study and consideration is a 4,000-acre lake and park project located between Omaha and Lincoln, estimated to cost over $1 billion. If the project moves forward, the lake will become one of the largest parks in the state, offering boating, swimming and camping opportunities for eastern Nebraska residents.
Sports and recreational complexes are also developing and expanding across suburban Omaha. Here are updates on some of these projects.
THE NEBRASKA MULTI SPORTS COMPLEX (LA VISTA)
First announced in August 2016, but delayed due to funding, the Nebraska Multi Sports Complex is back underway in 2022, with a $32.4 million phase 1 of the project. Phase 1 includes 12 multipurpose turf fields for soccer, lacrosse, rugby, softball, baseball and flag football. Phases 2 and 3 include a field house, tennis courts and pickleball courts. Eighty percent of the cost of building the complex will come from private donors and foundations. The city of La Vista is also contributing funds.
MD WEST ONE SPORTS COMPLEX (VALLEY)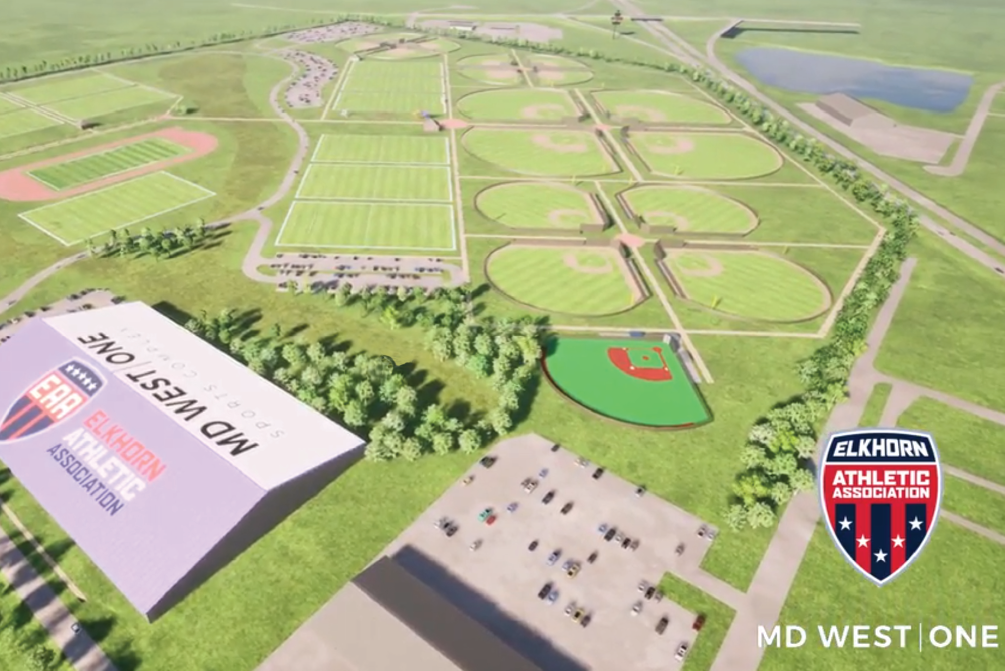 The 142-acre MD West One Sports Complex broke ground on June 23, 2022, with phase 1 scheduled for completion in spring 2024. This complex will include eight turf baseball/softball fields and six turf soccer/football fields at a cost of $55 million. MD West One Sports Complex estimates one million visitors annually over a 35-week playing season, making it the second most visited destination in Nebraska. Future phases will include additional multipurpose fields and more softball/baseball fields. In addition, there is room in the project for future space for hotels, restaurants, residential and commercial development.
UBT SPORTS COMPLEX EXPANSION (ELKHORN)
UBT Sports Complex is a 134,000 sq ft facility that hosts Omaha Sports Academy Youth Basketball and Nebraska Elite Youth Volleyball. The complex is now adding a 54,000 sq ft building that will house Elkhorn Attack basketball and five new basketball courts. The addition is underway and expected to be open in the fall of 2022.
ELKHORN TRAINING ACADEMY (ELKHORN)
Construction is currently underway on an addition to the Elkhorn Training Academy facility, which will enclose an outdoor training area and convert it to an indoor space.
GRETNA CROSSING PARK (GRETNA)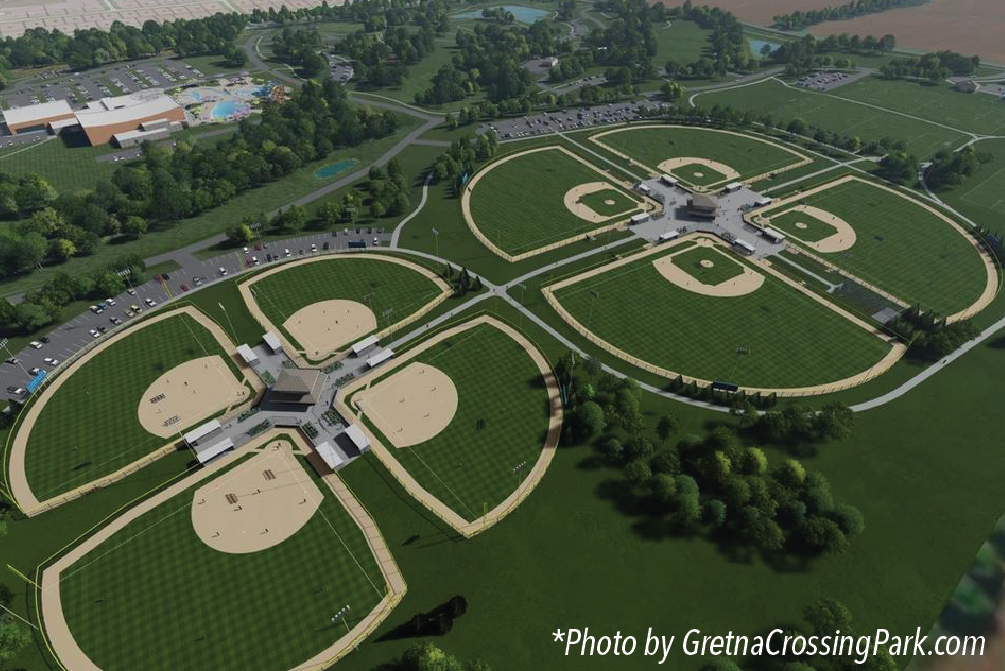 The city of Gretna is currently under construction on a 150 acre park that will include a wide range of recreational activities. A swimming facility, an 18-hole frisbee golf course, batting cages, and state-of-the-art softball, baseball, football and soccer fields will be among them. The city is collaborating with its local YMCA and Gretna Public Schools on the new 70,000-square-foot community center, which will have a competition pool, fitness area, gym, recreation rooms and locker rooms. Gretna Public Schools will use the pool for practice and competitions. The 100,000-square-foot aquatics park will feature multiple water slides, a lazy river, a kids' area and concession stands. With an estimated completion date of September 2023, the park will cost approximately $53 million, funded by a half-cent sales tax raise.
The list of new and renovated parks and recreation facilities is longer than we have room for in this article. The new parks complement existing parks and recreation opportunities and will benefit even more residents across the Omaha metro area.
This article appeared in our company newsletter in September of 2022. Please click here to download the entire newsletter.